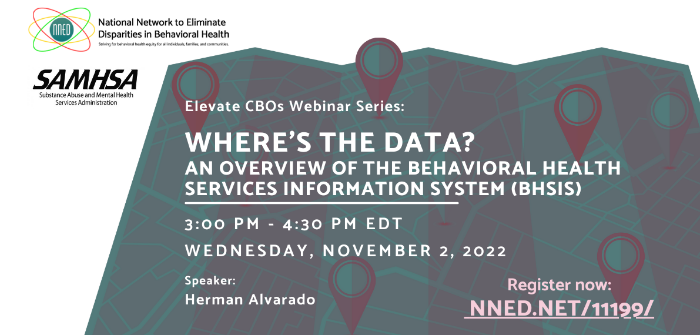 Wondering what behavioral health data is available to support work in your community? We invite you to join this informational virtual workshop led by Herman Alvarado, a Supervisory Social Science Analyst at SAMHSA's Center for Behavioral Health Statistics and Quality, who will provide an overview of how to access SAMHSA's available data on the Behavioral Health Services Information System (BHSIS) and Online Treatment Locator. This opportunity intends to provide technical assistance to National Network to Eliminate Disparities in Behavioral Health (NNED) members (free to join) and minority-serving and under-resourced community-based organizations (CBOs). This event is a continuation of the Elevate CBOs Webinar Series, an overarching policy-driven initiative from SAMHSA's Office of Behavioral Health Equity which began in 2021.
After attending this workshop, participants will be able to:
Describe the different components of the BHSIS.
Understand how to access BHSIS data and their potential use in research and grant writing.
Explain the interaction between BHSIS and SAMHSA's Online Treatment Locator.
The event was also shared on Facebook Live at fb.com/nned.net and closed captioning will be available through Zoom.
Access the Recording and Materials:
Related Resources:
Previous Elevate CBOs Webinars:
Contact Information:
If you have data requests or would like more info on the BHSIS, send an email to CBHSQRequest@samhsa.hhs.gov
Please contact Dr. Victoria Chau and Perry Chan at the Office of Behavioral Health Equity, Victoria.Chau@samhsa.hhs.gov, Perry.Chan@samhsa.hhs.gov if you have any questions about the Elevate CBOs initiative.