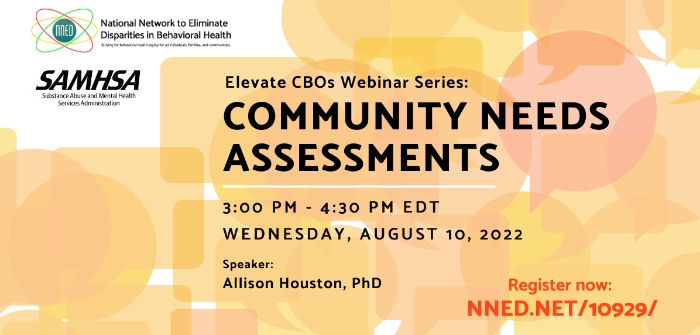 This opportunity intends to provide technical assistance around conducting community needs assessments to National Network to Eliminate Disparities in Behavioral Health (NNED) members and minority-serving and under-resourced community-based organizations (CBOs).
After attending this workshop, participants will be able to:
Understand the purpose of a community needs assessment
Identify who should be involved in a community needs assessment
Plan and conduct a community needs assessment
Learn about the impact made by community needs assessment reports
"Elevate CBOs" is an overarching policy-driven initiative at SAMHSA's Office of Behavioral Health Equity (OBHE) to build capacity, increase the visibility, and highlight the unique role of CBOs serving under-resourced communities in behavioral health.
The event was also shared on Facebook Live at fb.com/nned.net and closed captioning was available through Zoom.
Access the Recording and Materials:
Related Resources:
Access the Community Toolbox by the Center for Community Health and Development at the University of Kansas
View examples of community health needs assessments:
Access data sources:
Previous Elevate CBOs Webinars:
Contact Information:
To get ahold of the speaker, Dr. Allison Houston: info@yourdatamatter.com or fill out a contact form on the Proscenium website.
Please contact Perry Chan at the Office of Behavioral Health Equity, Perry.Chan@samhsa.hhs.gov if you have any questions about the Elevate CBOs initiative.
Date: 2022