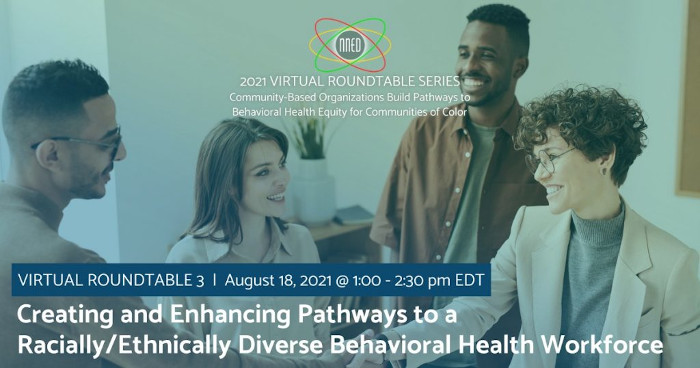 2021 Virtual Roundtable Series: Community-Based Organizations Build Pathways to Behavioral Health Equity for Communities of Color
Within the context of the COVID-19 pandemic and racial disparities, community-based organizations (CBOs) have elevated their response to the behavioral health needs of racially/ethnically diverse communities. The 2021 National Network to Eliminate Disparities in Behavioral Health (NNED) Virtual Roundtable three-part series presents the innovative and resilient work of CBOs in a time of healing and recovery.
Part 3 – Creating and Enhancing Pathways to a Racially/Ethnically Diverse Behavioral Health Workforce
Join this NNED Virtual Roundtable to hear about strategies that motivate racially/ethnically diverse individuals to consider behavioral health as a career path. Discover how community-based organizations are working to diversify the behavioral health workforce including recruiting and retaining racially/ethnically diverse staff. Learn from panelists about professional pathways and programs/trainings that support racially/ethnically diverse people in behavioral health careers.
Learning Objectives:
Understand the importance and impact of a racially/ethnically diverse behavioral health workforce.
Examine how community-based organizations can create career development experiences in behavioral health such as internships and trainings for racially/ethnically diverse people.
Identify national and regional programs for professional pathways that support racially/ethnically diverse people in behavioral health careers.
Learn about strategies to promote the behavioral healthcare field to make it more inviting and interesting to racially/ethnically diverse young people.
Population(s) of Focus: Underserved and Racially/Ethnically Diverse Community-Based Organizations
Access the Recording and Materials:
Resources:
Additional Programs:
Additional Resources Around the Behavioral Health Workforce:
2021 NNED Virtual Roundtable Series
Contact Information for the Opening Presenter, Panelists, and the Facilitator:
Date: 2021