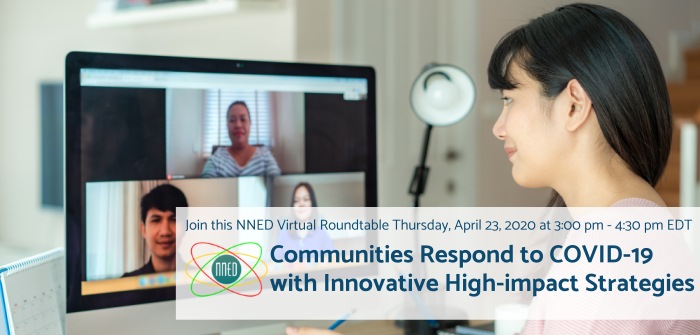 COVID-19 brings new health, economic and social crises on a daily basis. These crises especially affect lower-income, ethnic minority communities with job loss, food insecurity, and poorer access to health care. Information overload and cultural and linguistic gaps in information exacerbate anxiety, confusion, and uncertainty. National conversations underscore the growing need for mental health and emotional supports for individuals, families and providers across all populations.
NNED partner organizations across the country have rapidly pulled together—demonstrating collective strength, innovation, and new partnerships—to address the particular needs of their residents. Their efforts to reduce the anxiety and mental health stressors associated with COVID-19 expand the capacities of local healthcare systems to care for diverse populations.
This NNED Virtual Roundtable series will highlight issues associated with COVID-19, including:
Unique experiences of individuals in underserved communities;
Strategies for providing culturally and linguistically appropriate health information; and
Specific actions taken by select NNED communities to deliver high-impact and easy to implement approaches that support behavioral health needs.
Population: Everyone
Links to Resources:
View the recording of the NNED Virtual Roundtable Communities Respond to COVID-19 with Innovative High-impact Strategies
Download the slides from the NNED Virtual Roundtable
Check out the NNED Virtual Roundtable Key Takeaway
Links to Resources shared by panelists:
Links to Resource shared by participants:
Date: 2020
Panelists:
Camara Jones, MD, MPH, PhD
Candice LeBlanc
Denise Octavia Smith, MBA, CHW, PN: info@nachw.org
Griselda Villalobos, CSW, PhD, LCSW
Maria Covernali: mcovernali@yahoo.com
Sudarshan Pyakurel, MSW, MA
Tonia Thompson, EdD