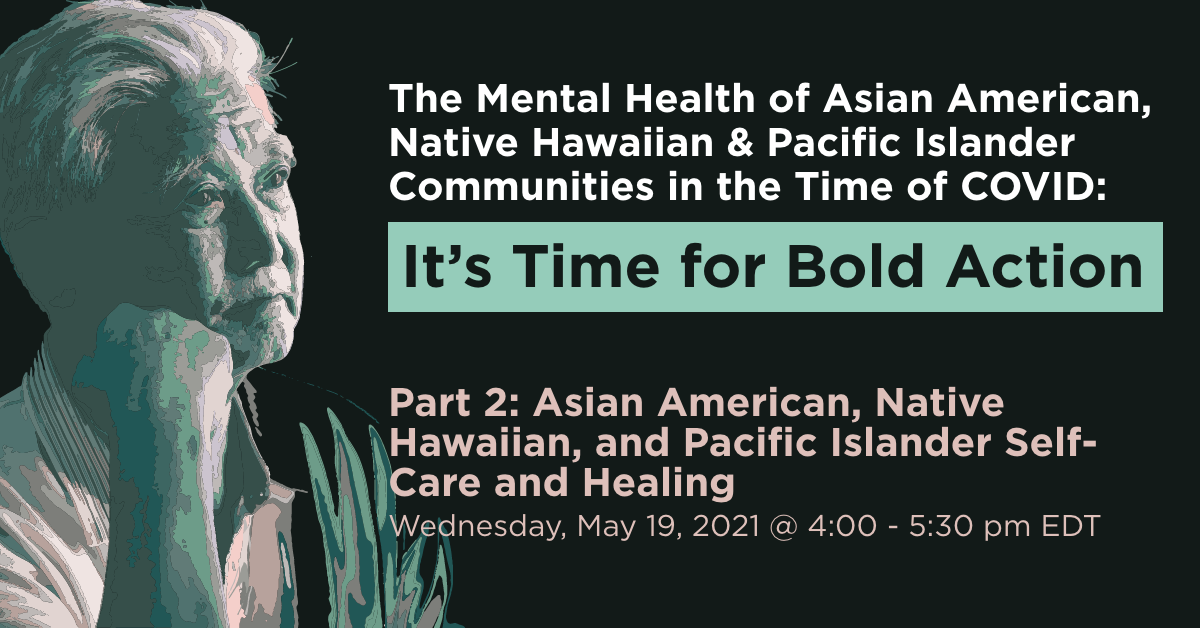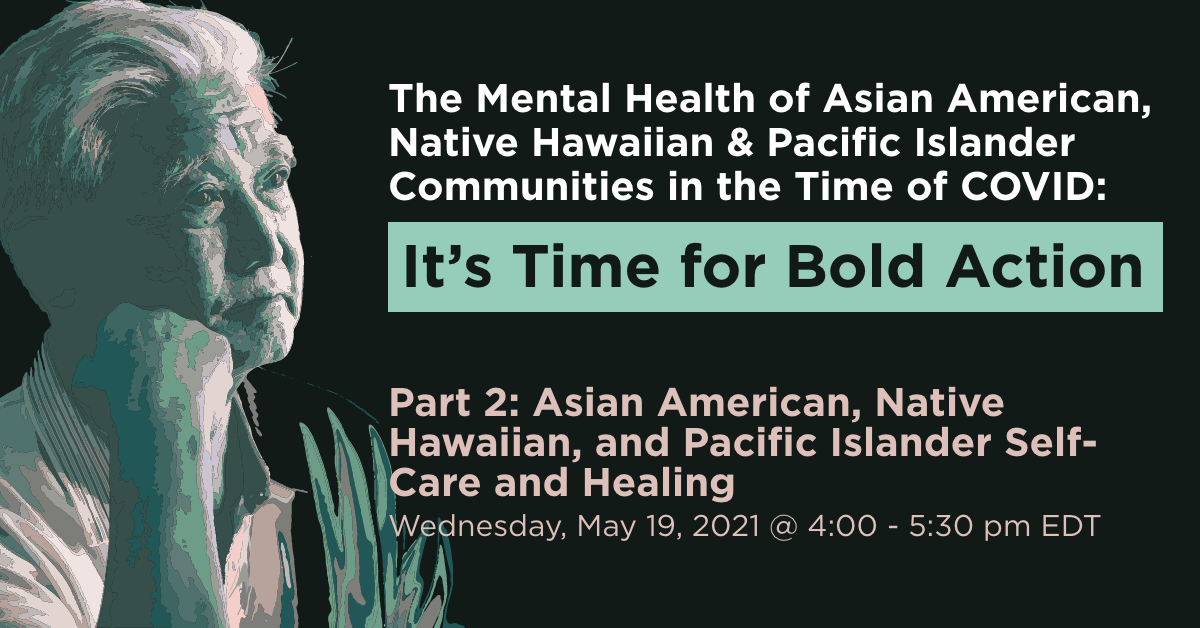 In honoring May as Asian Pacific American Heritage Month and Mental Health Awareness Month, the National Asian American Pacific Islander Mental Health Association (NAAPIMHA) and Change Matrix are joined by the Asian American Psychological Association (AAPA), the National Asian Pacific American Council (NAPAC), the National Training and Technical Assistance Center for Child, Youth, and Family Mental Health (NTTAC), and the Mental Health Technology Transfer Center (MHTTC) to hold a three-part virtual roundtable series. The roundtables highlight the unique and shared strengths of the Asian American, Native Hawaiian, and Pacific Islander (AA, NH, & PIs) communities; identifies the impact of historical and present day trauma and social injustice on their mental health; and provides self-care and community engagement strategies to promote well-being during the pandemic.  
Part 1:  W
e Are Not the Same: Understanding 
the Impact of COVID 
and Social Injustices on 
T
hese Diverse Communities
DATE: May 10, 2021 @ 2:00 – 3:30 p.m. EDT  
Learn what it means to be part of the AA, NH & PI communities; how each community self-identifies, unique strengths and challenges, and different mental health and social inequities associated with the COVID pandemic.   
Objectives: 
Identify challenges 

including 

historical trauma due to immigration, being a refugee, colonization

,

 and being seen as forever foreigners

, as well as fighting against the myth of the model minority

.

 

Highlight the national context around the mental health issues that the communities are facing, including the rise in AA hate incidents, and the 

ongoing 

disparities in 

quality of care 

access

 and access to culturally and linguistically appropriate care

.

 

Emphasize how COVID19 has impacted all AA, NH & PI communities, but in different ways.

 

Celebrate National Asian American, Native Hawaiian, and Pacific Islander Mental Health Awareness Day and the unique histories and cultural experiences of the AA, NH & PI communities.

 
Part 2: Asian American, Native Hawaiian, and Pacific Islander Self-Care and Healing 
DATE: Wednesday, May 19, 2021 @ 4:00 – 5:30 pm EDT   
The second roundtable will focus on the importance of self-care and family care. The discussion will ask the questions: 1. Why are self-care and healing so important yet so difficult? 2. What are culturally responsive strategies to support well-being? And 3. What are key approaches for self-care during this period of the COVID pandemic and increasing anti-Asian hate crimes and incidents?   
Objectives: 
Understand the importance of self-care and the cultural factors that make it difficult

to engage in such.

Identify creative solutions to 

engaging in 

self-care, 

including 

the use of cultural practices and a whole-health approach 

to improve care for 

the body, mind, and spirit.

Gain an understanding of

 

the importance of 

developing

 a strong cultural identity as an important self-care strategy when faced with racism, colonization, and other forms of oppression.

 
Part 3: What's Next? Community Action for Transformational Change
DATE: Thursday, May 27 @ 3:00-4:30 p.m. EDT 
The third part of the series will focus on community action and making systemic changes, at the neighborhood, local, state, or national level. Panelists will discuss the importance of unity, partnership, and allies in raising AA, NH, & PI voices for mental health. Participants will be asked to discuss systemic issues including the development of community action plans and supporting current mental health legislation. 
 Objectives: 
Identify systems issues and policies impacting 

the 

access to quality care, 

improving the current workforce by 

increas

ing 

the number of AA, NH, & PI providers

, including paraprofessional community members and providing ongoing training and support.

 

Clarify what constitutes culturally competent and linguistically appropriate care

,

 including innovative approaches and integrated models that recognize the relationship between physical and mental health

.

 

Identify allies and partners who can 

further

 systems changes

.

 

Identify one action step 

each participant 

can do to effect 

these 

change

s

.

 
Population: Asian Americans, Native Hawaiian, Pacific Islander
Links:
Date: 2021